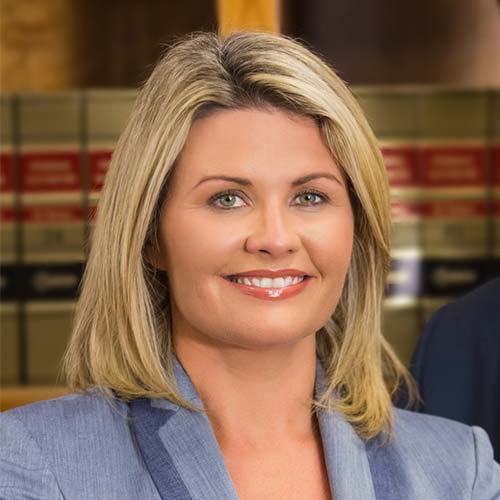 Kathryn Foster, Lawyer in Fargo
Kathryn is a wife, mother and native North Dakotan who focuses on family law. She has extensive experience litigating domestic issues like divorce, child custody, child support and visitation, adoption, and guardianship. Her clients often describe Kathryn as "straightforward", "loyal" and "aggressive."
Divorce, Custody & Child Support:
Kathryn knows that her role as an attorney in family law cases is to help people find their "new normal" in divorce and custody situations. She knows all too well how difficult it can be for someone who has never been through this process before, and she wants them to know they are not alone on the journey.
Kathryn firmly believes everyone deserves justice so she helps guide clients every step of the way. She loves helping families get back on track from difficult times. When someone reaches out to her about personal matters related to this topic, they can rely on being met with compassion and no judgement whatsoever.
Child Protective Services, Foster Care, Juvenile Court, & Guardianship:
Kathryn's interest in the law is a lifelong one, stemming back to her early days as a lawyer. Her first involvement with family law happened when she fought for custody of three siblings whose abusive parents were granted joint custody rights over their grandparents. Kathryn has since represented countless other clients from similarly difficult positions and helped make sure their kids are safe from harm — something that doesn't always happen within our legal system in North Dakota as it stands now.
Areas of Practice:
Family Law
Criminal Defense
Estate Planning
Probate
Bars of Admissions:
Minnesota
North Dakota
Education:
University of North Dakota Law School, Grand Forks, ND
J.D. – 2006
B.A. – 2003
Major: Political Science and Communication
Professional Associations and Memberships:
State Bar Association of North Dakota
Cass County Inns of Court (Ronald N. Davies Inns of Court)
Honors and Awards:
Rising Stars, Super Lawyers, 2018 – 2021
You don't have to do this alone. We will guide you through the process and fight for your rights!